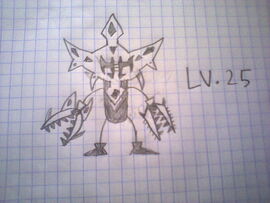 Tunshiro is an Uberhero Patapon that likes eating (just like Buzzcrave). It's a very strong Class and it wields unique weapons and armor.
Description
Edit
It has a mask shaped like Taterazay's Mask, but with some changes.
Its attacks are really powerful but it costs to train it.
Uberhero Mode
Edit
Meelee DoomEdit
Activation:
PON PON PATA PON~PON PON PATA PON
Combo:
PON PON PATA PON
DescriptionEdit
Tunshiro approaches an enemy and "Bites" him with his Eaters, the damage is High, but the defense lowers during Uberhero Mode.
Class Skills
Edit
Sharpness: +2500 damage to all weapons.
Sonic Reflexes:+15 for Evasion.
Dark Aura:When in Uberhero Mode , Tunshiro glows in a Dark Aura, +2000 Strenght during Uberhero Mode.
Survival Skills:+100 HP every second.
Set Skills
Edit
Hunger: -1000 Hp but +3000 Strenght.
Snack Time!:Every hit to an enemy recovers 10 HP.
Vial of Poison: Every hit poisons the enemy.
Peerless Glutton: When in Uberhero Mode, every hit recovers 1000 HP.
Equipment
Edit
Tunshiro can equip Shivs and Shoulderpads from unlocking; Claws from Lv.15 and Eaters from Lv.25 .
Also, you can equip him a Shield, but if you equip a Shield it will replace one of your Eaters,Claws or Shivs.
Chin can be a Tunshiro, but it could only equip Claws,Eaters and Shivs.
Tunshi means Devour in Chinese (

吞食)

It was based on the Dodonga/Majidonga/Kacchindonga's ability: Devour.