Pyuanesu

Boss Type

Dragon

Stamina

Very High

Strength

Moderate~Very High

Defence

High

Status Effect(s)

Light

Weakness(es)

Dark

Attacks

Other Boss(es) in Relation
"

A sacred dragon that protects the Tenshidons in crucial times.

"



 

— Description 
Attacks and Abilities
Edit
Claw Swipe
Edit
Pyuanesu uses his claw to swipe the enemy. Best dodged with PonPata or DonDon.
Pyuanesu attempts to devour one of the Patapons. Avoid with PonPata or DonDon.
Pyuanesu releases a bright light from its horn that puts the enemy in Tumble for a long period of time. This attack cannot be dodged, instead, you can use DonChaka to recover immediately from Tumble.
Heaven's Laser
Edit
Pyuanesu flies into the sky and releases a laser from its mouth and horn. Deals very high damage that almost always inflicts criticals. Cannot be dodged, only ChakaChaka can at least reduce the damage.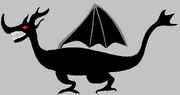 Preparation
Edit
When Pyuanesu is at 25% health, he will transform into a Dark Pyuanesu. He grows additional horns and "fins" grow in its tail. His element becomes Dark and his elemental weakness become Light. All his stats will become very high, so it becomes very strong. It will also move quickly and attacks unpredictably, making it very dangerous.
Related Bosses
Edit