Poseipon

Class

Poseipon

Type

Spearman

Acquisition

Yarida Lv15,Piekron Lv15,Charibasa Lv15

Poseipon is an elite Uberhero. He uses spears to erase away the enemies. He can also use halberds if he is high-leveled enough. He is expert in freezing enemies.
Uberhero Mode
Edit
Ocean Swing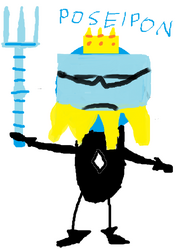 (Tsunami appears behind and smash the enemies!)
Activate by Pon Pon song.Combo can be done.
Pon Pon = Throwing spears or hero mode.
Chaka Chaka = Defend using spears.
Pon Chaka, Pon Pon = Water blows out of the ground!
Class Skills
Edit
Repel Power
Knockback x1.5.
Thunder God
Ignite chance increase 25%.
Fatality
Critical x2.
Set Skills
Edit
Freeze!
Chance to freeze the enemies are doubled.
Flexibility 1
Attack speed x0.5.
Stamina Maniac
Stamina boost x2.5!
Flexibility 2
Movement speed chance with attack speed.Learned at lv 25.
Peerless Ocean
Ignite chance 100%,stagger x3,freeze x2.5! Can only be learned by Uberhero at Lv 32.
Poseipon takes his name by Poseidon, the king of the sea wielding his precious Trident.
Poseipon is also the name of a Spear, which is not present in the EU version of the game.
Poseipon's weapon appears to be alike with Poseipon's Trident in Patapon 3.
He has the most freeze rate out of all the Uberheroes, even though he doesn't have much freeze Set Skills.