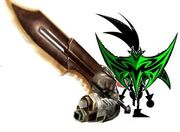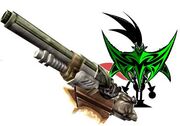 A well balanced warrior who is capable of melee combat as well as ranged combat. His preferred weapon is Arcs, a weapon that can switch to Blade Mode and Gun Mode. So, he can be a hard hitting melee attacker or a long ranged support gunner.
He is in the Archer Class, and his class is known as the Henkopon.
Laevatereinn is unlocked when you level up Maruda to level 20.
Equipment
Edit
Sword Blades
Gun Barrels
Shields
Abilities and Attacks
Edit
PON PON - Blade Mode: Normal Slash, Gun Mode: Fire gun.
CHAKA CHAKA - Deploys Shield If in Blade Mode or Lifts gun upright in if Gun mode.
PON CHAKA - Switch from Blade mode to Gun mode and vice versa.
Special Moves
Edit
Uberhero Mode
Edit
Impulse Edge : Laevatereinn slashes upward then shoots enemies below. Deals more damage depending on the enemy's defense.
Activate : DON DON
Combo : DON DON
Ultimate Hero Mode
Edit
Trigger Happy Switching : Switching from Blade Mode to Gun Mode is faster, Deals devastating damage to high defensed enemies and has a chance to inflict a random status effect.
Activate : DON DON ~ DON CHAKA
Class Skills
Edit
Devour : Everytime an attack hits an enemy, it boosts attack power by 5% until the end of the mission. Stackable by 3 times. Learn by hitting foes.
Impulse Boost : Uberhero Mode damage is boosted. Learn by using Uberhero mode repeatedly.
Recovery Up : Upon dying, he shoots up bullets that recovers allies health, and damages enemies. Learn by dying repeatedly.
Homing Bullets : Bullets do not disappear until it hits an enemy. Learn by using Gun Mode repeatedly. Welcome Bonus : Bullets deal 50% more damage.
Set Skills
Edit
Arc Mastery: 50% more damage dealt, but resistance to status effects is reduced by 45%.
Strike 'Em First: Fires bullets more faster when in Gun Mode. Blade attack speed remains the same.
Firm Stander: When HP is below 25%, Defense is boosted by 30%, and once, if you are hit by an attack that would otherwise finish you off, you will have at least have 5% HP remain.
Peerless Arc: Boosts All stats by 20%, and a 25% boost to attack power.